Tyres supplied and fitted in Bradford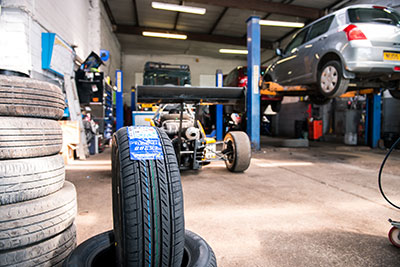 It is required by law that your vehicle is fitted with the correct size and type of tyre, and that they are fit for the purpose of which they are being used. They must also be inflated to the manufacturer's recommended pressure (usually found in your car's handbook).
The legal limit (as stated in the Highway Code) for the minimum depth of tread on your tyres is no less than 1.6 millimetres, across 3/4 of the tread around the complete circumference of the tyre.
The penalty for driving a vehicle with tyres that are worn, or contain cuts or bulges, are 3 penalty points on your licence and a fine of up to £2,500 per tyre! So why run the risk? Contact the qualified team at All Alone Garage to discuss the various brands of tyre we can supply and fit for you.
Wheel alignment (tracking) services
We also offer laser 4 wheel alignment that consists of adjusting the angles of the wheels so that they are set to the car makers specification.
The purpose of these adjustments is to maximise tyre life and keep your vehicle driving straight and true. At All Alone Garage we have the latest equipment to align your vehicle's wheels and make it road-safe once again.